THE HISTORY OF ETHIOPIAN COFFEE
Ethiopia is widely regarded as the birth place of coffee.  As legend goes, around 850 AD, an Ethiopian goatherder, named Kaldi, was tending to his goats in the Kaffa region of Ethiopia, when he first observed the effects of coffee beans.  Noticing that his goats were "jumping" and excited after eating the red berries growing nearby, he decided to try some for himself.  After experiencing the effects of the beans firsthand, he decided to share the news with the monks in a local monastery.  Through a strange occurrence of events, the rest is history, and coffee, as we know it today was born.
Fast forward over 1,000 years to today, and Ethiopian coffee is known to be some of the best coffee in the world.  Highly sought after for its intense flavor and complex aromas, there are many different types of Ethiopian coffee.  Some of the more popular varieties include Harrar, Sidamo, Yirgacheffe, and of course, Kochere.  Each coffee is grown in a particular region, and has its own unique profile.  Kochere Coffee Company has gathered the best of the best, and we know that you will fall in love with them, just as we did.
COFFEE FROM ETHIOPIA AND THE GREATER HORN OF AFRICA
The soil and climate in Ethiopia is perfect for growing coffee. The rich, diverse soils are nutrient-rich and the climate is warm and sunny, with plenty of rain. This combination creates the perfect conditions for growing high-quality coffee beans.But it's not just Ethiopia! The entire region is a Mecca of great coffee. For that reason, Kochere Coffee Company discerningly selects, and ethically sources specialty, premium, and gourmet coffee from the entire Greater Horn of Africa, including: Kenya, Tanzania, Uganda, Sudan, Rwanda, Somalia, and Yemen.

COFFEE THAT WAKES YOU UP...
There is nothing quite like waking up in the morning with the zesty, robust aromas of a Kochere coffee permeating the house.

You wake up feeling hazy, but know that the day will soon get better as you go through the daily ritual and ceremony of cracking open one of the perfectly roasted, artisanal microlot offerings from Kochere Coffee Company.

Before you take your first sip, the heat and aroma can only suggest that you are about to experience something special. The first sip hits your mouth, and you pause to notice the rich texture, and palate cleansing after effects of the full body and ample viscosity.

The taste, smell, and touch alone, are enough to drive you into sensory overload, and before you know it, it's time for another cup.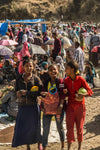 BUT LETS YOU SLEEP GOOD AT NIGHT.
To Kochere, It is equally important that we are good corporate citizens. This is why all of our coffee is responsibly sourced under fair trade practices, directly with the farms and cooperatives that grow it.
Furthermore, the beans that we source are organically and naturally grown, without the use of harmful pesticides. Sustainable farming practices help guarantee that the environment is not damaged, and that natural resources are preserved.
Kochere supports the well-being of the farmers and their communities, and has further extended our support by providing jobs in customer service, and content marketing in these communities as well.
Therefore, enjoy our coffee! And know that you are doing a little bit more to make the world a better place by drinking Kochere.
So drink our coffee. Drink lots of our coffee, because knowing this, no matter how much coffee you drink, you will always be able to sleep good at night.
POPULAR ORIGINS
East Africa grows some of the most desired specialty coffee beans in the world. We only stock the best of the best.Check back frequently as countries and origins may change.